ASICS can expect the shape-up effect of the lower limbs by walking
A new concept for women walking shoes that enables a beautiful walking posture
"BC WALKER SHAPE (Biece Walker Shape)" XNUM part number,
From the XNUM X Moon X NUM X day, the Asics Group's directly managed shop "Aojinkan (Hojinkan)",
Launched at the ASICS Walking Shop, department stores nationwide, and sports equipment stores.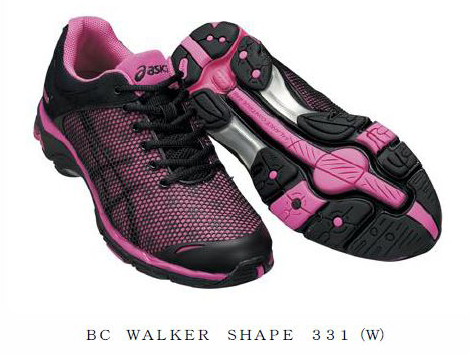 The products to be released this time are shoes that can expect the shape-up effect of the lower limbs by walking that the company is developing ("SHAPEWALKER (shape walker) series released from 1998 spring. Walkability and shape-up as walking shoes The shoes that can be expected to be effective in a wide range of people with a focus on women and have become long sellers) and shoes that lead to beautiful walking postures ("BC WALKER" released from 2010 Spring) series. There is a shoe that focuses on "improvement of posture", attracts attention as a shoe of a new concept, and has been selling functions of approximately 2 in a couple of years since its release in 12). Incorporating the know-how to incorporate functions that can be expected to improve shape-up and walking posture simultaneously There is.
"Toe-up design" which raised toe five times
The sole of the foot is thick at the base of the toes, and the toe part is designed to be about 5 degrees higher than the heel part, causing a difference in height and causing a load. By raising the toes, the same load on the hips, thighs, and the other side of the road as it is walking on a gentle uphill on a flat road will be applied to the calf and so on.
"Balance control bar" that promotes ideal weight transfer
In addition, a rod-shaped "balance control bar" is mounted to penetrate the center from the heel to the toe. By walking consciously with the bar, the toes can come out straight ahead, guiding smoothly from landing to kicking, and in order to balance naturally with the trunk axis of the upper body in order to balance naturally, the trunk anteversion angle Can be expected to improve the spine and make it easier to stretch.
3 types to choose
A large shock absorbing material "GEL (gel)" is built in the heel part to enhance cushioning. A sporty type (TDW331) that uses a feminine type (TDW332) mesh that uses polka dots, and a simple type (TDW333) that uses artificial leather are available. By making the toe part appear thin while giving thickness to the toe base, the appearance is made to be clean and can be shaped casually even on a daily basis.
SPONSORED LINK



SPONSORED LINK