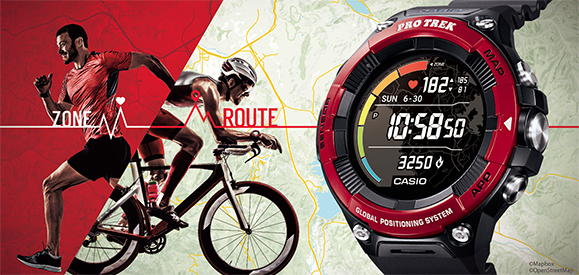 I'm a Casio girl. I'm a Tokyo stroller.
Casio Computer's new product "PRO TREK Smart" for outdoor device "PRO TREK Smart"WSD-F21HR"2019 9 May 13 will be available for sale on the day!
Equipped with heart rate measurement function
"WSD-F21HR" is equipped with a heart rate measurement function that is the first in the series. Combined with the map display function, it is easier to use for running and trail running, and boosts appropriate training by visualizing the distance you run while running, the distance to the goal, heart rate and pace. It seems to me.
The color is red and black 2. The price is 56,000 yen + tax.
The back of the board is equipped with an optical sensor that measures LED light on the wrist.
A new watch face "Heart Rate" is installed, and when the accelerometer detects movement, it automatically switches to the heart rate measurement screen, and the measured heart rate information is likely to be expressed in the heart rate zone at the 5 stage.
SPONSORED LINK

"Running" and "Trail running" are added as new activities, and up to 4 patterns such as pace, heart rate and distance can be registered in the display data.
Of course, like the conventional "PRO TREK Smart", it is waterproof to 5 pressure for outdoor use and toughness compliant with MIL specs (US military procurement standards established by the US Department of Defense).
WSD-F21HRSpecs
Waterproof performance

Environmental performance

Conforms to MIL-STD-810G (US military procurement standards established by the US Department of Defense)

※ 2

display

1.32 inch 2 layer structure
Color TFT LCD (320 x 300 pixels) + monochrome LCD

Touch panel

Capacitive touch panel (antifouling coating)

GPS Compass

Installed (GPS, GLONASS, MICHIBIKI compatible)

Color map function

Equipped (offline support, can save up to 5 locations)

sensor

Pressure (barometric / altitude) sensor, acceleration sensor, gyro sensor, bearing (magnetic) sensor, optical sensor (heart rate monitor)

microphone

powered by

vibrator

powered by

wireless

Bluetooth® V4.2 (Low Energy compatible)
Wi-Fi (IEEXNUMx b / g / n)

ボ タ ン

MAP button, power button, APP button

battery

Lithium ion battery

Charging method

Magnet crimp type charging terminal

Charging time

Approximately XNUM X hours at room temperature

Battery life
(Without GPS)

Normal use (color display): about 1.5 days

Clock and sensor only (multi-time piece mode): Approximately 1 months

※ 3

(Varies depending on usage environment)

body size

About 61.7 × 57.7 × 16.8mm (Body part length x width x thickness

※ 4

)

mass

About 81g (including band)

OS

Wear OS by Google

Operating environment

To use this machine, you need a smartphone equipped with the following.
Supported features may vary by platform and country.
Android ™: Android ™ 4.4 or higher (excluding Go edition)
iOS: iOS X NUMX or higher
The size of the body follows the previous model "WSD-F20", but the weight is 20g lighter than F10.
The heart rate can be measured, so if you are running, trail lining or walking, it will be quite easy to use as a running watch!
[Casio] Wristwatch Smart Outdoor Watch Protrek Smart Heart Rate Measurement Function GPS WSD-F21HR-RD Menu
54,400 JPY
(09 / 22 23: as of 47)
We publish information of Amazon
[Casio] Wristwatch Smart Outdoor Watch Protrek Smart Heart Rate Measurement Function GPS WSD-F21HR-BK
54,400 JPY
(09 / 22 16: as of 03)
We publish information of Amazon
I want to read it together
SPONSORED LINK



SPONSORED LINK