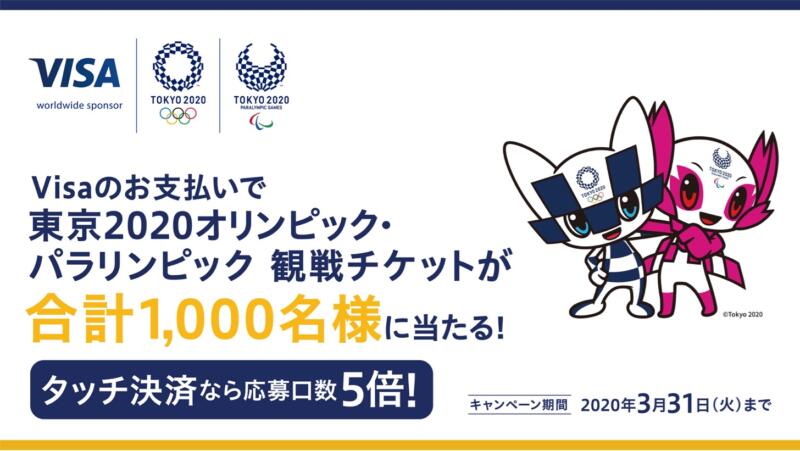 It is a Tokyo stroller that wants to get tickets for the Tokyo Olympics somehow.
From 2019 year 7 month 22 day (Monday) to 2020 year 3 month 31 day,Tokyo XNUM X Olympics Paralympic Games tickets are XNUM X set XNUM X people!The campaign is implemented. A total of 500 set of 1,000 users will receive a ticket for the Tokyo 2020 Olympics and Paralympic Games.
What is "Visa touch payment" where the probability is multiplied by 5?
After entering from the campaign site, if you use Visa card (credit debit prepaid) more than 5 during the target period, it will be counted as XNUM X entries, but if you use "Visa Touch Payment" even during the target period 1 Because it is drawn by being counted as 1 times the number of applications for the target period, it is definitely better to apply for "Visa's touch payment".
By the wayVisa touch payment] Is a payment method that uses the security authentication technology of the international standard that is developed in about 200 countries and regions in the world including Japan, it is a payment method that can be touched without passing the card to the cash register. It looks like the Visa version of iD or Quick Pay.
↑ As with the Tokyo 2020 Organizing Committee Official Credit Card "TOKYO XNUM OFFICIAL CARD", the card is marked with a VISA touch payment symbol (VISA Paywave).
This other Visa card supports Visa touch payment.
SPONSORED LINK

"Visa's touch payment" can be used with Mac or Lawson
So what kind of shops can you use "Visa's touch payment"?
If you check it, it seems that you can use it here, including McDonald's, Lawson, Aeon Group stores (until 2020). I did not know that airport limousine buses and JTB could be used.
Phiten
Airport Limousine
Lawson
Omotesando Hills
Hankyu Hanshin Daiichi Hotel Group
TSUTAYA
JTB
Gurunavi Pay
KIX (Kansai International Airport)
Glasses store
McDonald's
Ion group (up to 2020)
IKEA
Tokyu Plaza Ginza
Compared to cashless payments such as PayPay and LINEPay, it is still unfamiliar in Japan, 'Visa's touch payment', but in that sense it might be the point of interest.
Entry conditions are required from the link below, so if you have a Visa card, let's enter it first!
Campaign to win "Tokyo XNUM Olympics / Paralympic Games tickets" with Visa card
Period: 2019 year 7 month 22 day (Monday) to 2020 year 3 month 31 day (Tuesday)
Application conditions: Pre-entry, Visa card more than 5 times during each target period (1 times tax-included 300 yen or more)
Count as applicants 1 by the use of payment).
If you use Visa touch payment even if XNUM times in each target period, count the number of applications for this target period as 1 times.
Prizes: Tickets for the Tokyo XNUM X Olympic and Paralympic Games
※ We can not choose competition to watch
Target period of use · Number of winners:
1 times 2019 year 7 month 22 day to 9 month 30 day (125 group 250 name)
2 times 2019 year 10 month 1 day to 11 month 30 day (125 group 250 name)
3 times 2019 year 12 month 1 day to 2020 year 1 month 31 day (125 group 250 name)
4 times 2020 year 2 month 1 day to 3 month 31 day (125 group 250 name)
I want to read it together
SPONSORED LINK



SPONSORED LINK