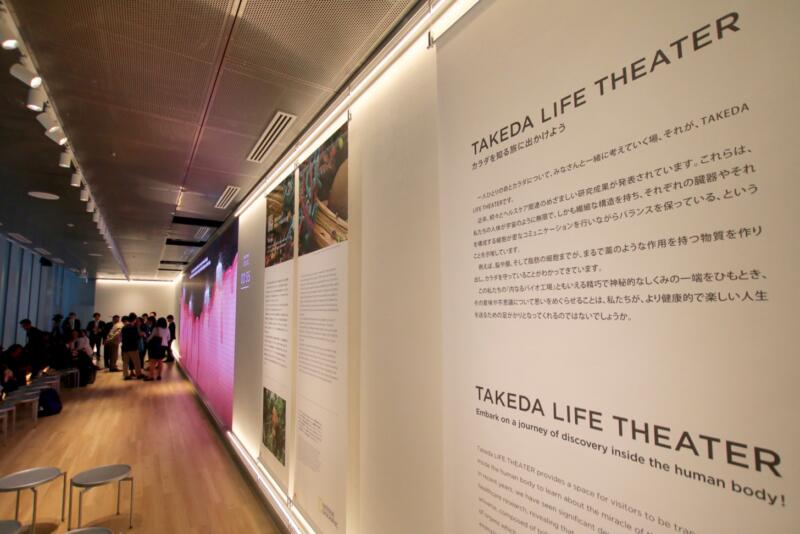 I'm hungry, it's a Tokyo walk.
Takeda Global Headquarters on the first floor of Nihonbashi Honcho, with new facilitiesTAKEDA LIFE THEATER (Takeda Life Theater)XNUM X X X X X X X X X X X X X X X X X X X X X days. This time, I will tell you about the press conference for the media.
"The trip to know the body" seen in the XNUM XK image of XNUM X meters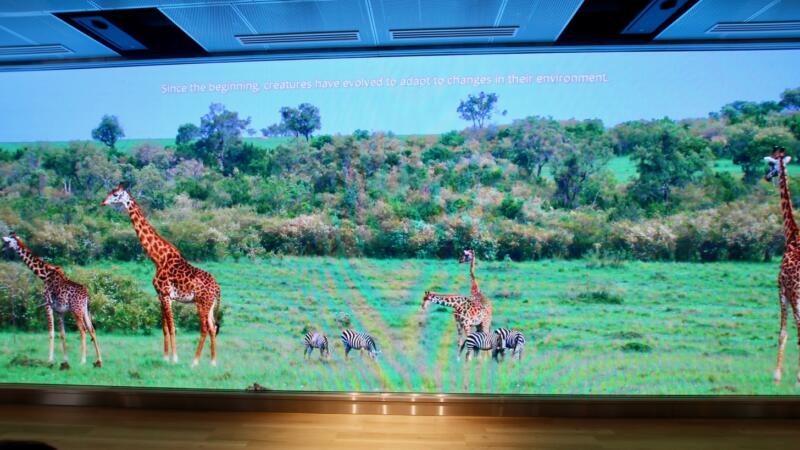 "TAKEDA LIFE THEATER (Takeda Life Theater)" is a theater where you can enter for free, with the concept of "Let's go on a journey to know the body".
The theater is equipped with a large LED monitor of width XNUMxm x height XNUMxm and an audio system of XNUMx ch surround, where you can enjoy video content.
1 bullets can watch video content related to "gut" for 15 minutes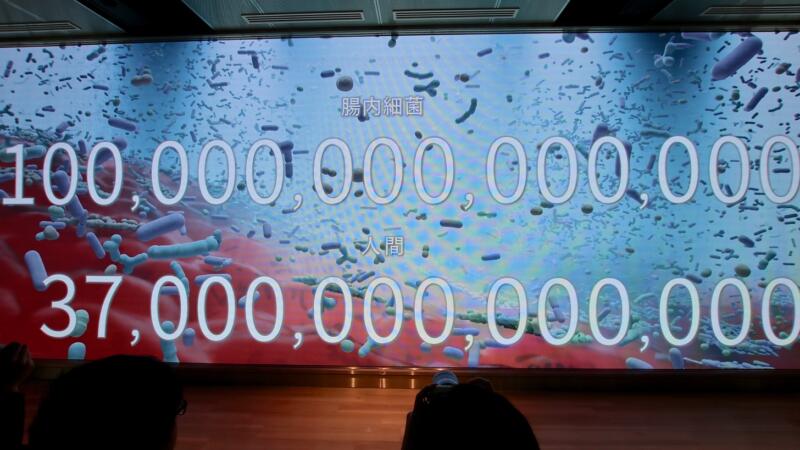 The video content of the 1 bullets is the video content of the "gut" inspired by the mystery of the gut, which was produced with the cooperation of Nikkei National Geographic, the role of enterobacteria and improvement of the gut environment (about 15 minutes ) Can be watched.
About 1,000 kinds of bacteria in human intestine. The total number is said to be several dozen trillion to one hundred trillion pieces. The fact that human cells are made up of approximately X NUM X trillion cells also makes it easy to understand how many enteric bacteria exist.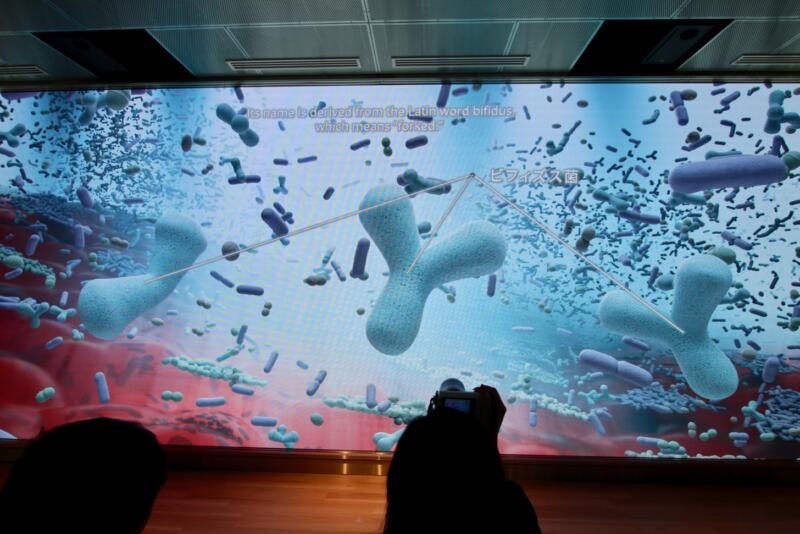 "Bifidobacterium", famous for its health benefits, is one of the enteric bacteria.
In the intestine, various bacteria seem to be fighting for territory. Everyone gets along well!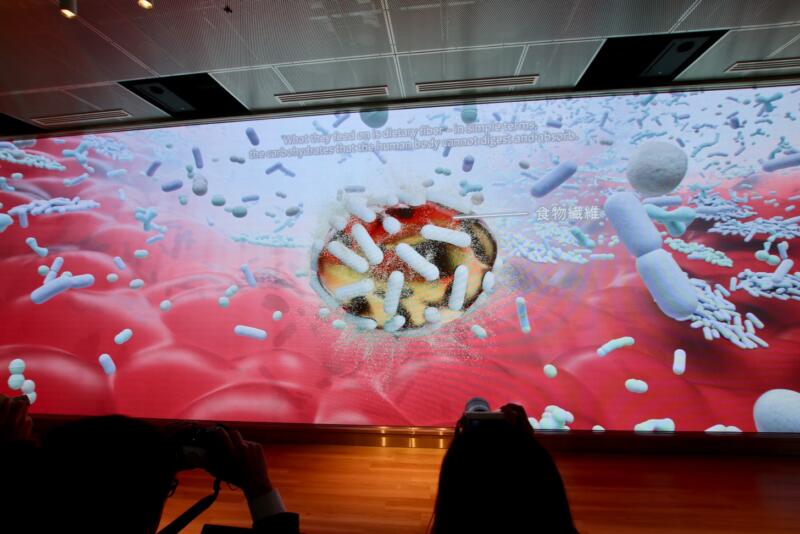 Such enteric bacteria are likely to produce short-chain fatty acids and vitamins that eat carbohydrates (dietary fiber) that humans could not digest and absorb, and can also prevent obesity, lifestyle-related diseases, and colitis.
By making a lot of such bacteria, you will become the intestine that leads to health. I'm going to study.
The video alternates with English subtitles in Japanese narration and English subtitles in English narration, so foreign visitors may also enjoy it.
SPONSORED LINK

Mr. Haruhiko Hirate, Corporate Communications & Public Affairs Officer Takeda Pharmaceutical Co., Ltd. "Nippon Hashimoto, with its headquarters in Takeda Global, has been known as the" city of medicine "since the Edo period. The TAKEDA LIFE THEATER, which everyone can enjoy, wants us to stop by various people as a base to realize Takeda's mission to contribute to the health and medical future of people. "
I tried to eat a snack to prepare the intestinal environment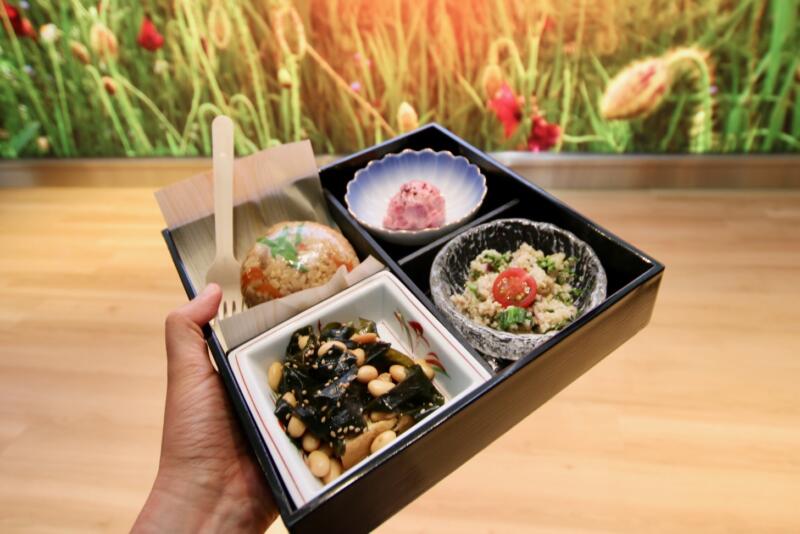 On this day, I was able to have a snack to improve the intestinal environment, which was supervised by health and medical journalist Kunihiko Nishizawa.
Rice ball of glutinous oat and chicken burdock
Beet's potato salad ~ cherry blossoms ~
Stir-fried deep-fried soybeans with young sprouts
Spring vegetable quinoa salad
According to Nishizawa, eating large amounts of dietary fiber is said to reduce the risk of colon cancer and type 2 diabetes, and to lower weight and blood pressure. All were delicious, but especially the quinoa salad was easy to eat and there were also many dietary fibers and it was delicious! Since I can enjoy the video about the body, I thought it would be nice to have an event where you can enjoy such healthy food and teach recipes.
So, we introduced the new facility "TAKEDA LIFE THEATER (Takeda Life Theater)", which will open at Takeda Global Headquarters 2019 floor in Nihonbashi Honcho, which will open on 4 Mon XNUM X days (Wednesday) in 17!
TAKEDA LIFE THEATER (Takeda Life Theater)
Location: Nihonbashi Honcho 2-chome, Chuo-ku, Tokyo 1 1 (Takeda Global Headquarters 1 floor)
Admission: Free
10: 00: 18: 00
Closed days: Saturdays, Sundays, national holidays, holidays, New Year holidays, etc.
Official site:https://www.takeda.com/jp/corporate-responsibility/community/life-theater/

I want to read it together
SPONSORED LINK



SPONSORED LINK