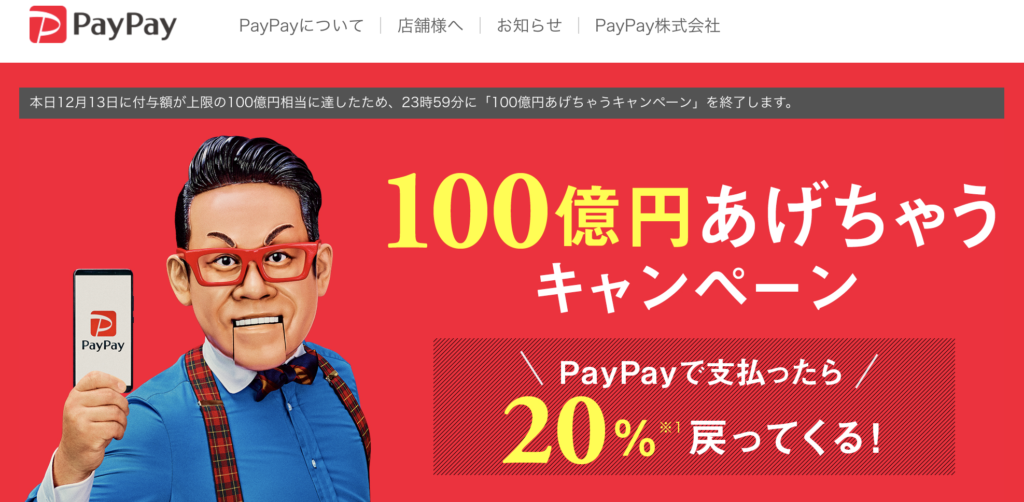 Smartphone payment service "PayPay2018 year 12 month 4 day (Tuesday) `` 100 billion yen campaign '' started on 12 month 13 day (Thursday) reached the maximum amount of 100 billion yen equivalent, so 23 hour 59 minutes To end the campaign.
XNUM X Month X NUM X Day X NUM X Minutes X X
【Campaign ended by popular reception】#PayPay 100 billions of campaigns will end with 100 / 12 (Thursday) 13: 23 because it has reached the upper limit of 59 billion yen per popular.
We are planning new campaigns in the future, so please continue to favor PayPay.

— PayPay Corporation (@PayPayOfficial) January 2018, 12

↑ PayPay official tweets.
The rumor of the end came out from the morning of today.
Where do you use PayPay for XNUM X Billion Yen?
So, as announced in advance, when the budget is reachedCampaign to raise XNUM X billion'Finished.
That means that PayPay of XNUM X billion will be returned to users next month.
Where do you use it?
Since stores that can use PayPay can be searched by genre in "Yahoo! Map" and "Yahoo! MAP application", what kind of store they can use in the future is likely to be the key to spread!
Click here for PayPay app
【PayPay (Yahoo!)】 Stores that can be used in Yahoo! Map can be searched by genre! Curry, ramen! → Also supports Yahoo! MAP app
PayPay related article summary
SPONSORED LINK



SPONSORED LINK