I am not good at waiting.
I go to eat at various gourmet spots. There is a waiting board in front of popular shops, and it has been experienced once that you write your name and wait until the turn comes.
I know how many pairs are waiting, but I don't know how many minutes to wait, unless I'm on the spot.
However, if you try to introduce a turn control system used in a large store etc., it will cost hundreds of thousands of units for the initial cost alone, and there will be many installed devices such as local servers, wiring, and printers. , Maintenance fee will not be stupid. It will be a shame that small stores in the city introduce such a system.
If you have an iPad or iPhoneMonthly X NUM X yen (excluding tax)Waiting system "myJunban" available at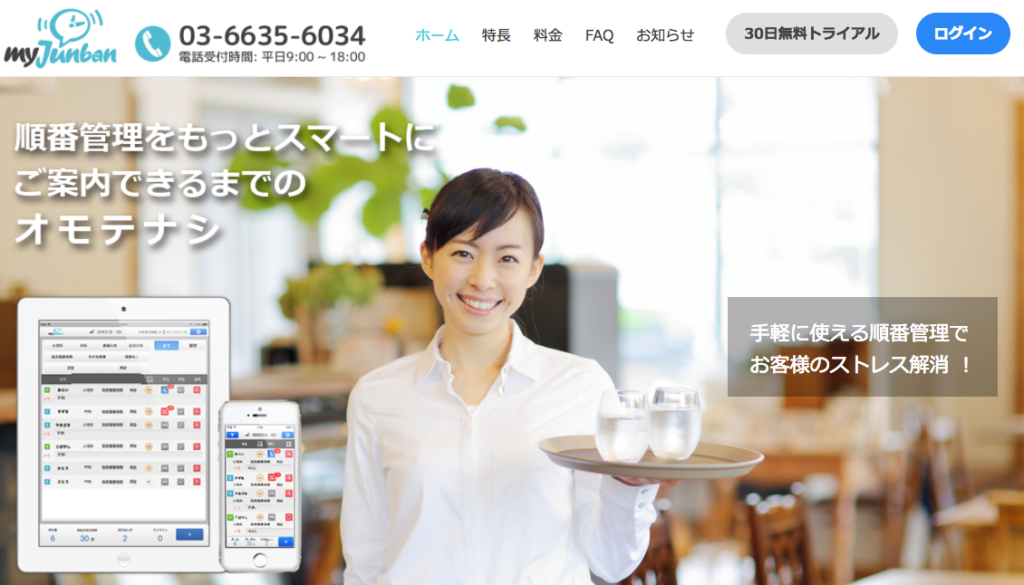 So, this time, I would like to introduce you the iPad, iPhone, and iPod Touch (iOS9 or higher) connected to Wi-Fi.Monthly XNUM X yen (tax not included) without initial costEasy to use at low costWaiting system, its name is "myJunban. "
I tried to accept myJunban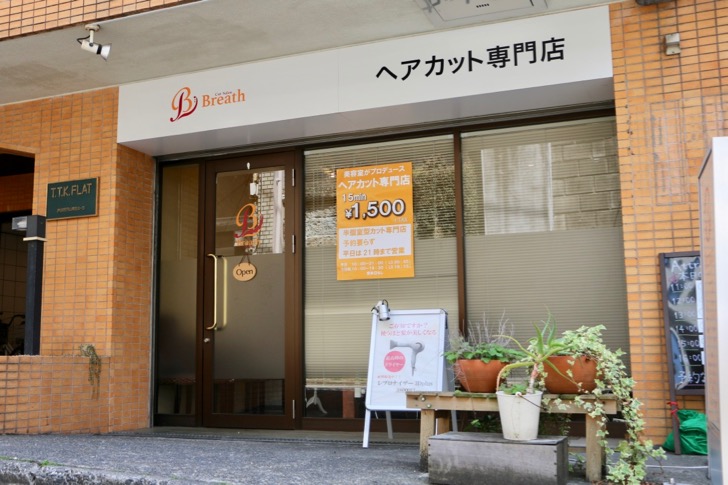 This time waiting system in Shin-sen, Shibuya-ku "myJunbanWe tried to actually experience the receptionist by interrupting the haircut specialty store "Breath" who officially introduced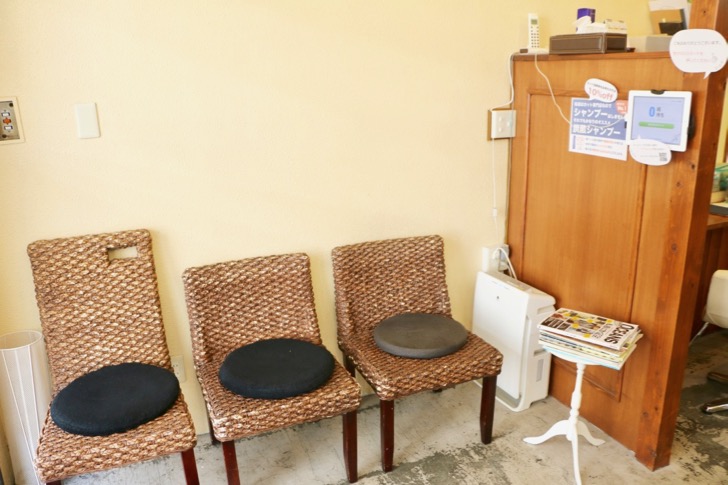 This shop located a short distance from Shinsen Station is a haircut specialty store used by many office workers. In the past, it was said that they were packed in the right turn and waited in turn, but there were many occasions when the guests who came later were sitting in their favorite chairs and they could not understand the turn And.
Where the shopkeeper has been thinking about trying to use the waiting system beforemyJunbanAs soon as you knowFree trial of XNUM X daysTest introduction. We recently decided to introduce it officially.
Currently, an iPad for reception is installed near the chair where the first customer sits. As we do not need a ticketing machine,It fits neatly in a narrow place!
Easy operation with a simple UI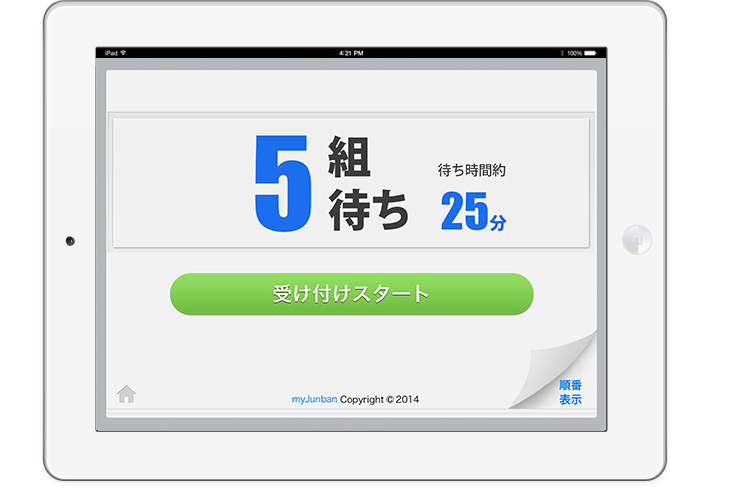 The UI (user interface) of "myJunban" is very simple.
Displays the current number of waiting sets and waiting time in a large scale.
Basic operation tap "reception start",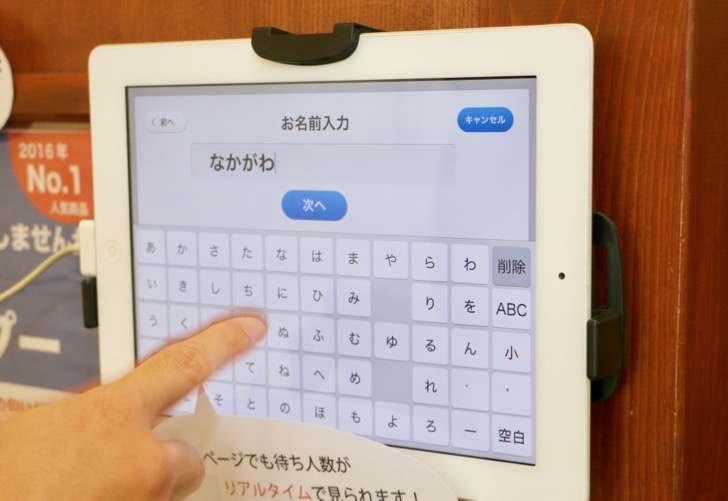 Enter your name and it's done!
This shop is used quite simply because it is OK if the names and order of the customers are known.
Automatic voice call can also be called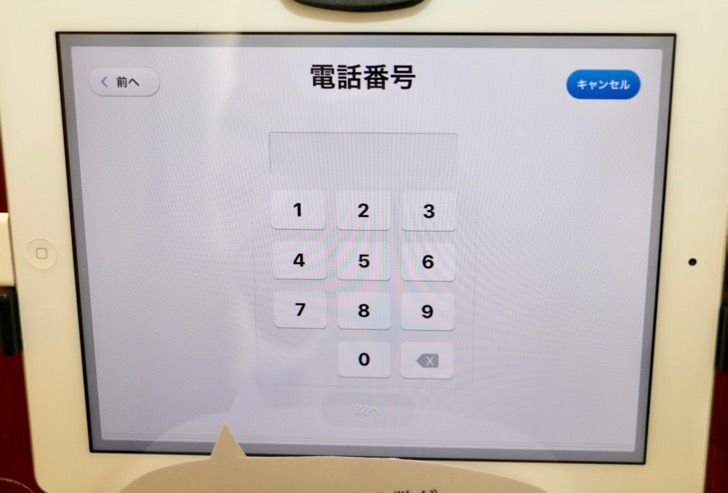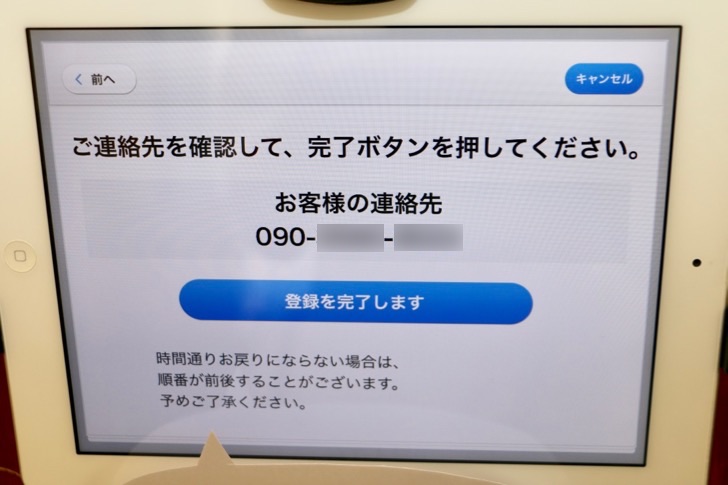 If the waiting time is long, enter the phone number if you want, and you can make an automatic voice call from the store!
While you are waiting, you may do another job, or if your house is near you, you can use your time to go home!
Clean and easy-to-understand management screen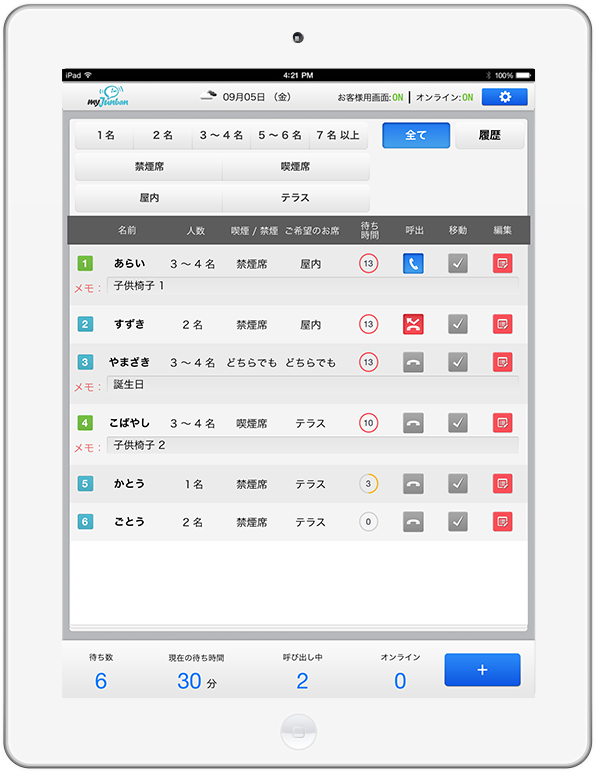 Here is a management screen that people in the shop see. It is very easy to see with the screen display which was refreshing.
Response is also good, you can operate with crispy.
In this management screen,
Waiting number
Current waiting time
Number of callers
Number of online receptions
At a glance the number ofHow long has it been waiting since the customer accepted it?Is also displayed.
Sort by number, conditions such as non-smoking seat and smoking seatCan also be displayed.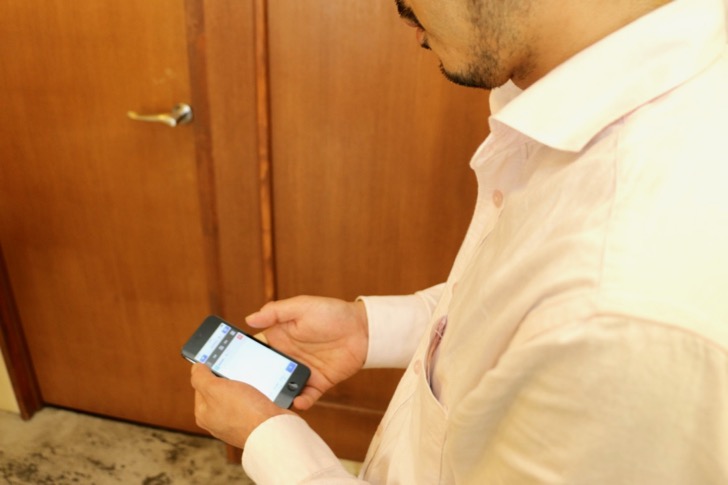 The person in the shop is "myJunban"AppsCheck the current queue on your iPhone.
The order information is synchronized in real time through Wi-Fi. As it can be connected to multiple iPhones and iPads at the same time, it is possible for a large store with many staff to have a terminal for several people.Even if multiple units are connected, the charge will remain unchanged monthly 5,980 yen (excluding tax)That's great.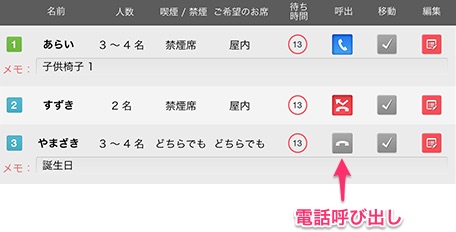 If you want to make a call on the phone, tap the "Call button" to let customers outside the house know with an automatic voice (or short message) that their turn will be soon. (※ Each month 100 calls (automatic voice) is free, 101 after the 1 call 20 yen (tax not included) will be charged.)

If the call is complete"Called" blue iconIf you did not answer the call"Away" red iconindicated by.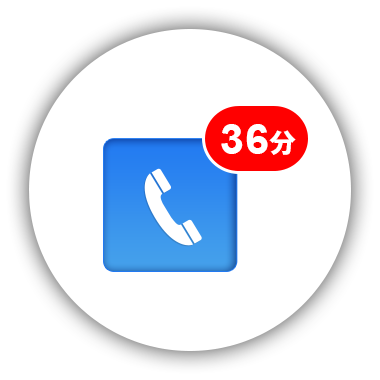 "Called" blue iconThe number of minutes elapsed after the call is displayed. If it takes too long, it's easy to resend the phone or switch the order and guide the person behind you first.
The message also supports reading out recorded voice files (MP3) and text, and it is possible to set to automatically call the phone when the order is advanced.
You can also check and accept the number of queued items on the shop's website
The reception desk will not be issued with a printer, etc. at the time of reception, but you can also display the number of people waiting in real time by accessing the website of the shop. (In the shop's HPmyJunban"If you paste the widget" will be displayed) check the number of people waiting to go, if it is small, it may be possible to go now.
You can also accept online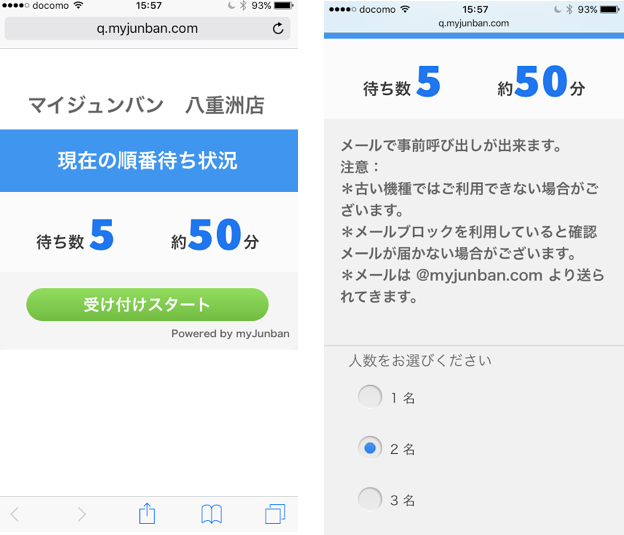 In addition, if you set up the online reception button on the home page, you can also use the mobile phone or PC to receive a waiting reception.
In addition, when you go out and go out, you can also notify the shop via mobile and online if you have another plan.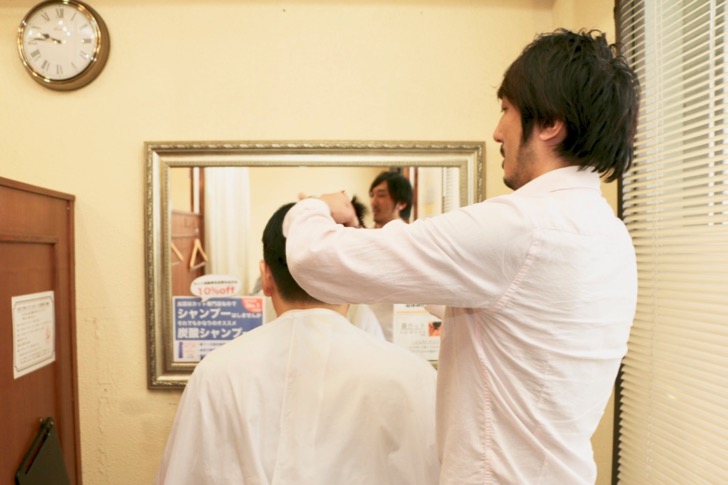 Mr. Terada, who is the owner of the shop, said, "It is very convenient to know how many people are waiting from outside the shop, and it is very convenient to know the name of the customer. There is no need for initial investment and good management ""myJunban"I told the impression of the introduction.
In addition to this specialty store, you will find restaurants, hair salons, massage salons, clinics, osteopathic clinics, animal hospitals, and various other shops.myJunban"Is active.
At a certain clinic, a display was installed outside the store at the same time as the hospital, so that it was possible to see the current waiting situation at a glance even without entering.
Customize the reception contents freely
Various items can be customized (added / deleted) freely according to the type of business of the shop.
For example, if it is a restaurant
Number of visitors
Tobacco (no smoking, no smoking)
Preferred seat (table, counter, or both)
Etc. will be required items.
In the hair salon etc., you can also add an item to choose the name of a designated hairdresser.
You can analyze the flow of customers in the usage report
The information received and registered in "myJunban" can be used to check the usage report on a weekly basis for 1, and can be downloaded in CSV format.
What day of the week and what time is the number of customers. You can see on average how many minutes you have waiting time, so if you analyze your own flow and understand the flow of customers, you can take measures such as increasing part-time workers and part-time workers in many time zones, and increase sales. You can expect too!
Summary"MyJunban" to optimize the waiting time
It's really a tragedy that you've been looking forward to it and it's just a wait. There may be times when a high-profile repeater customer gets away just after a long wait.

By using "myJunban", the wall with waiting time can be lowered to the limit, so the shop side can reduce the opportunity loss and customers can effectively use the waiting time, so the sales and repeater rates increase. , It will lead to the activation of the city.

It takes 1 years to develop and has been carefully tested, so it has enough reliability.
First of all, with the free trial of XNUM days, how about using it?

SPONSORED LINK




SPONSORED LINK