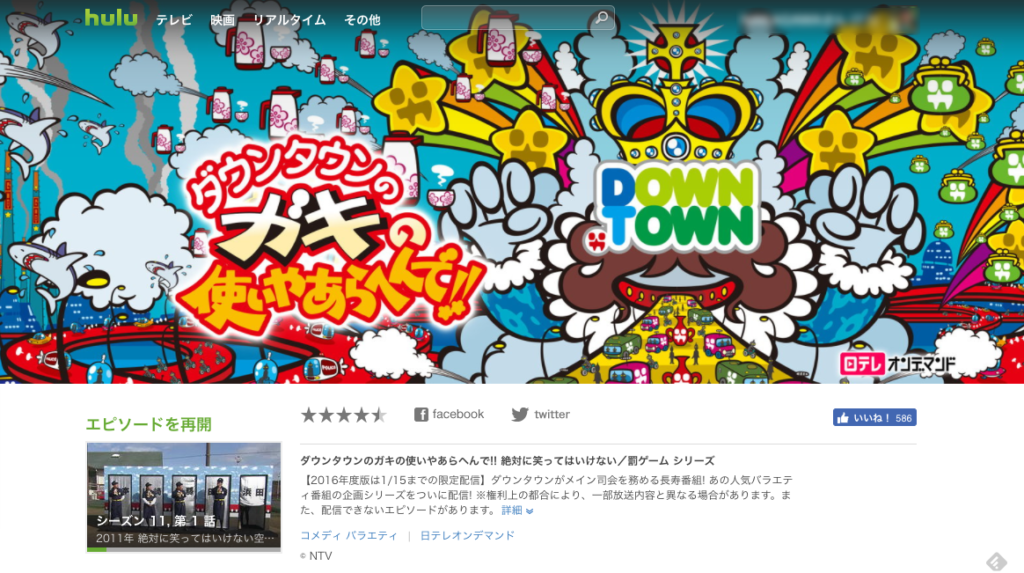 It was broadcasted on New Year's Eve of XNUM X"Don't use the downtown oysters! Do not laugh at all! Doctor of Science XNUM X! ". 2017 year 1 month 15 day (Sunday) is being delivered for a limited time by "Hulu" of the video delivery service!
(...... Do you hear me ... everyone ... Hulu ... Now ... in your heart ... directly ... I'm calling ... If you missed the mission of the band ... If you can not see all ... Hulu ... can be seen ... and others There are 30,000 books ... there is ... Hulu is ... 2 weeks are free ...) https://t.co/Dp7322n1Y5 pic.twitter.com/30CDKqNmay

— Hulu_japan (@hulu_japan) January 2016, 12
This time, we tried with Hulu at the end of the year, but I thought it would be a bit out of work, and it was really fun!

"Don't laugh at all-" series is known for the appearance of a huge guest.In particular, by Mr. Saito, "I was alive in the sky" of Sunshine Ikezaki-san, and a member of "Nipple drill" by Yoshida-Yoshida and Yoshi-san's combination of Nishioka Tokoma and Yoshimoto ShinkichiThe height of the degree of completion was not only laughable ('▽ `) Mr. Nishioka is personally MVP of this time. I'm really good at it

The video delivery service "Hulu" is able to see almost all (Episode 933 ~) of the series "Don't laugh-absolutely!"Now it's free for 2 weeks, so you can view the limited delivery up to 2017 year 1 month 15 (Sunday) for free, so if you are concerned please try from the link below!
→ Hulu
SPONSORED LINK



SPONSORED LINK