Emergency disaster local countermeasure headquarters tourIs currently recruiting participants.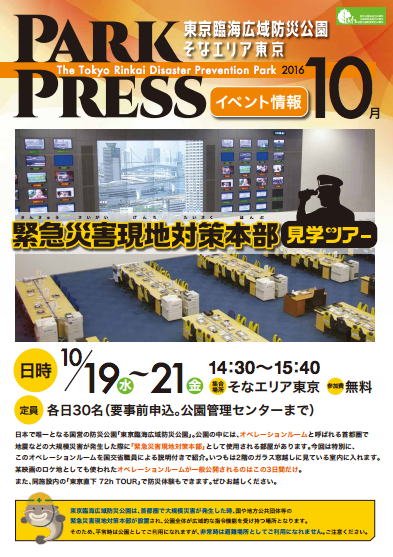 At present, we can see the operation room through the glass from the 2 floor, and it is said that the visit of "Thin Godzilla" fans increased from around 8 month. You will be introduced to the operation room, which can not usually be included in this tour, with explanations by the Ministry of Land, Infrastructure, and Tourism staff!
It is necessary to apply in advance by telephone, fax and email. Participation fee is free, it seems to be quite popular as a holy place pilgrimage tour of "Shin Godzilla" because of the 30 names each day!
Emergency Countermeasures Local Headquarters Tour
Date and time: XNUM X Year X NUM X Month X NUM X Day (Wed) to X NUM X Day (Fri)
Opening time: 14: 30 to 15: 40
Meeting place: Tokyo seaside wide area disaster prevention park, Sona area Tokyo
Admission: Free
Capacity: Each day XNUM X persons (pre-registration required)
【How to apply】
Apply directly to the following by phone, fax or email.
Tokyo waterfront large area disaster prevention park, sana area Tokyo

※ Application by e-mail from the following URL, subject as "operation room tour tour participation hope"
Fill in the following items.
-Participant's name-Address (to city)-Contact information-Number of people
Official site:http://www.tokyorinkai-koen.jp/news/oshirase/1356/
Use time of disaster prevention experience-based learning facility is from XNUM X am to X PM X pm
Closed days: Monday (opened on Mondays when it is a public holiday and closed the next day)
SPONSORED LINK



SPONSORED LINK