Cheap SIM (MVMO) by LINELINE MOBILE (LINE Mobile)"2016 year XNUM X month month X NUM X day (Mon)" launched a soft launch service.
last timeCreating a new LINE account and setting up subscriber collaboration with LINE Mobile officialWill be sent, but this time we will inform you about the method of data present which is one of the features of "LINE Mobile".
I tried to present data
Subscribers of LINE Mobile can give their own packets free of charge from 500MB to 2,5GB.
In fact, let's give a data present. First, open the menu from LINE Mobile's official account and tap "Data present".
Then, LINE friends subscribed to LINE Mobile are displayed, so you can select who to send from there. This timeLINE Mobile Blogger EventBut it was togetherOkunoI will send it to Select Mr. Okuno and tap "Continue".
Then, select the amount of data to present. The amount of data can be selected from 500MB to 2,500MB (2.5GB) in 500MB steps. By the way, data can not be presented because it was purchased with additional data and data obtained from a friend.
After selecting the capacity, tap "Continue".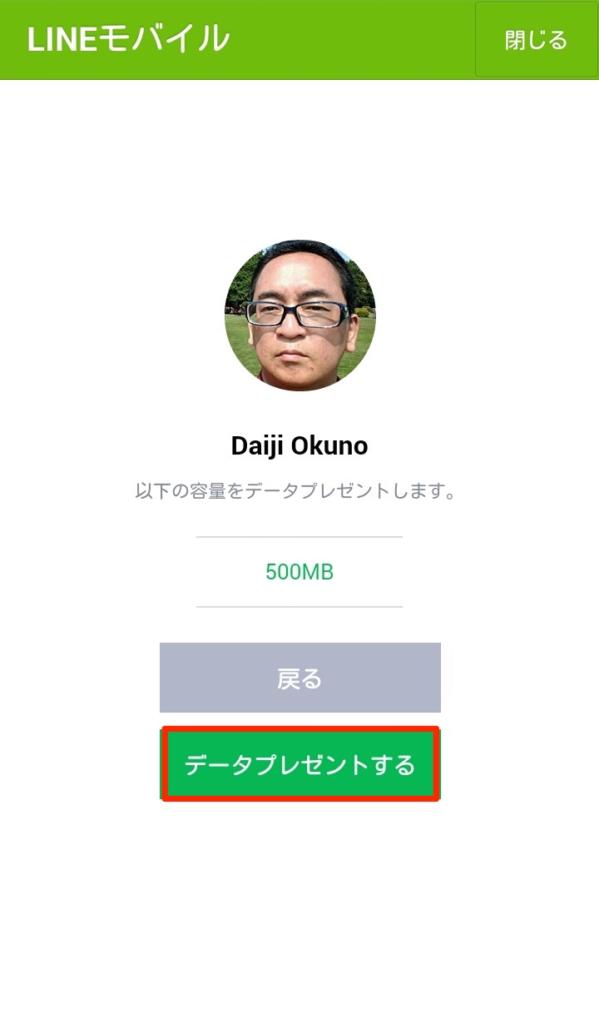 Data is sent if you tap "data present".
Why this icon photo ('∀ `)
Data transmission is complete when the display of Connie appears.
It will be displayed in the talk that Mr. Okuno has sent XNUM X MB.
After that, I received an XNUM X MB from Mr. Okuno.
At that time, a notification will be displayed, and it will also be displayed that 500MB has been received in the talk.
Actually, when I first sent, Mr. Okuno wasn't friends with my LINE account, so it didn't work well because I didn't work with the users. Please note that the data present will not be established if both sides have not completed user collaboration with LINE Mobile!
It is a nice feature to be able to give a packet without a fee. Share packets among family members, or use too much this month.There is not enough giga!"If it becomes", it is a hand to borrow a little from LINE Mobile's friends. The next month I borrow it, let's return the packet with a little thanks!
→ Click here to apply for LINE Mobile
LINE Mobile Articles
SPONSORED LINK



SPONSORED LINK