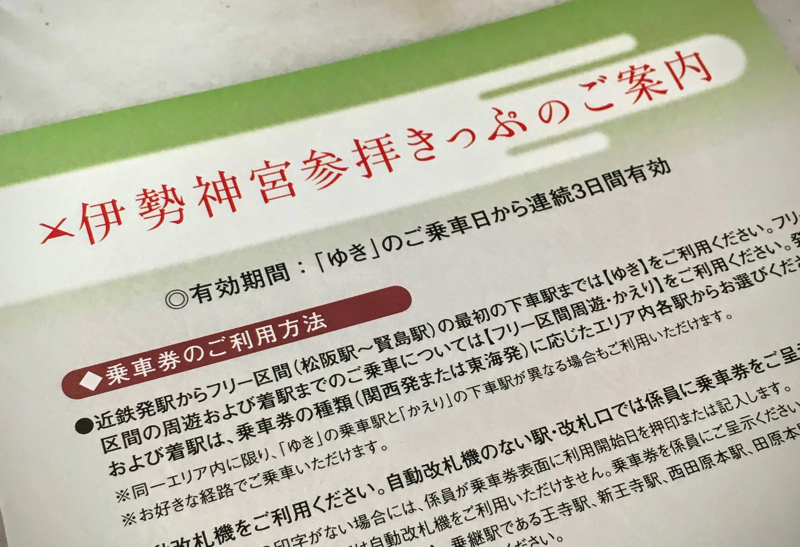 It is Tokyo walk po which went to the trip of Ise Shima, Mie prefecture.
If you are going to travel in the Ise Shima area, I went with a valuable ticket I would like you to check by all means. This time, the Kinki Nippon Railway (Kintetsu) will be released this time "Ise Shrine visit ticketWe introduce "!
Round trip Kintetsu limited express and Kintetsu trains / busses are unlimited for 3 days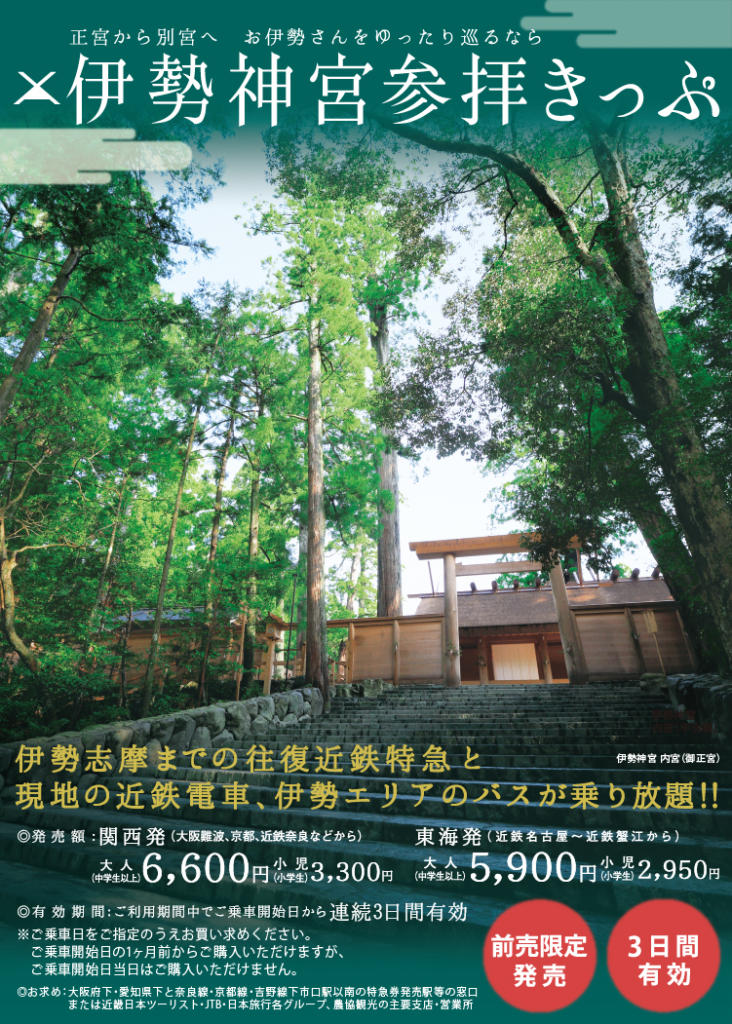 Kintetsu trains are selling "Ise Shrine visit ticketAre from Tokai (Kintetsu Nagoya) and Kansai (Osaka Namba, Kyoto, Kintetsu Nara) to the Ise Shima area.Round trip Kintetsu limited express and local Kintetsu trains, buses in Ise area are all-you-can-eat tickets for XNUM X days.This time, we went to Nagoya by Shinkansen and used the "Ise Jingu Shrine Visit" from Kintetsu Nagoya to Tokai.
Ise Shrine visit ticket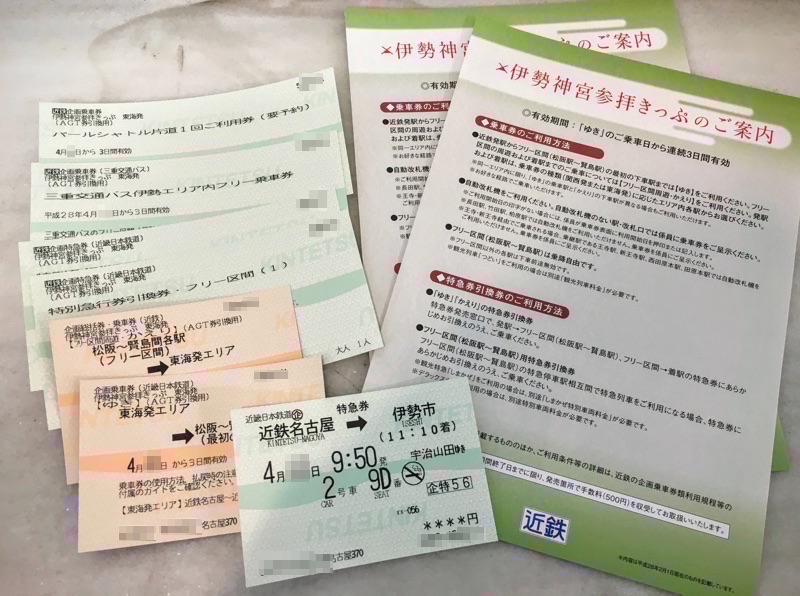 As I will mention later, this time I bought a ticket for Ise-Shima Visiting Ticket in advance at Kinki Nippon Tourist in Tokyo. The purchased voucher will be exchanged for Ise-Shima Shrine Visit Ticket at the Limited Express Ticket Office in Kintetsu Nagoya. The following tickets were exchanged and obtained.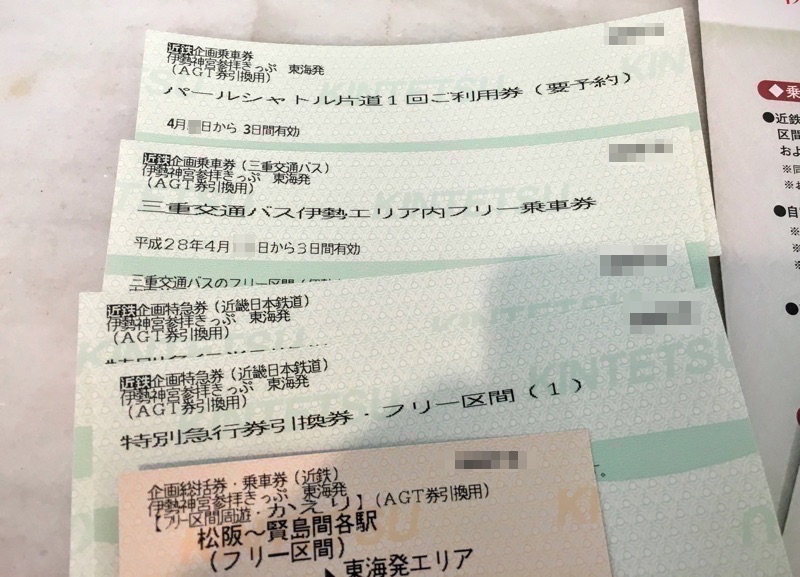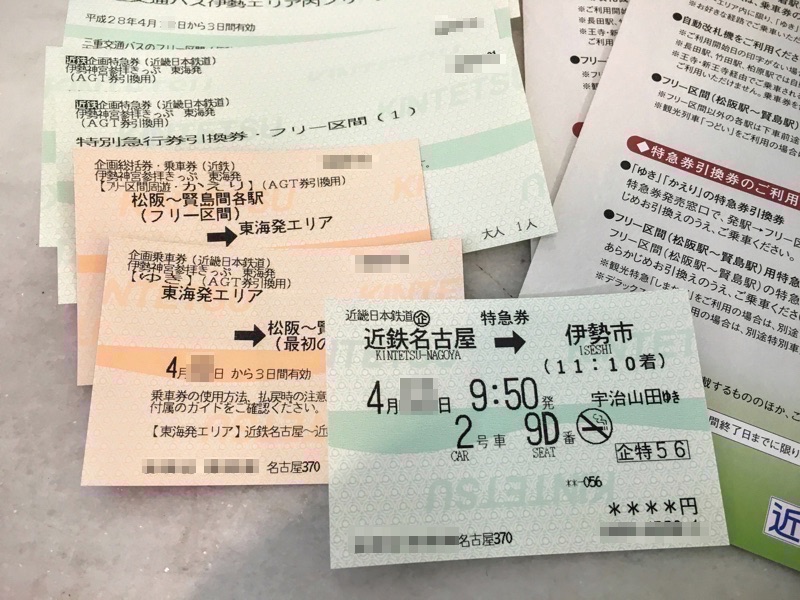 Round-trip ticket from Kintetsu departure station to free section (between Matsusaka-Kenjima) and ticket of free section
Limited express ticket exchange tickets for "Yuki" (Delivery station → Matsusaka-Kashikojima) and "Kari" (Matsusaka-Kashikojima → arrival station) (Special express vehicle fares are required for sightseeing limited express Shimakaze and deluxe cars)
Two Limited Express ticket exchange tickets for free section (between Matsusaka and Kenjima)
Free ticket in Mie Kotsu bus Ise area
Pearl Shuttle One-way XNUM Pass Ticket (reservation required)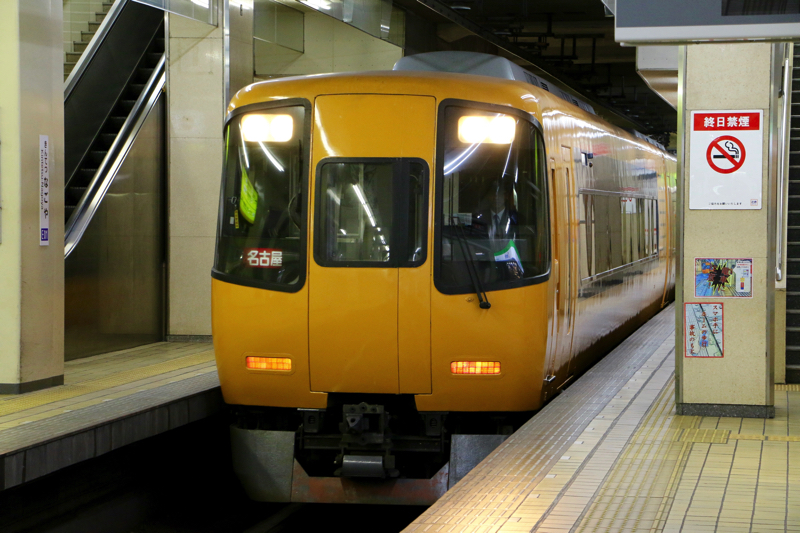 There are Kintetsu limited express tickets (round trips) and free passes for Matsusaka-Kenjima Station for XNUM day and valid bus passes for Ise Jingu Shrine. Furthermore, shuttle bus 3 ticket between Ise Jingu to hotel of Ise Shima area is attached, price isTokai departure is for adults 5,900, for children (primary school students) 2,950,Adult XNUM X Yen Children (Primary School Students) XNUM X Yen from Kansai.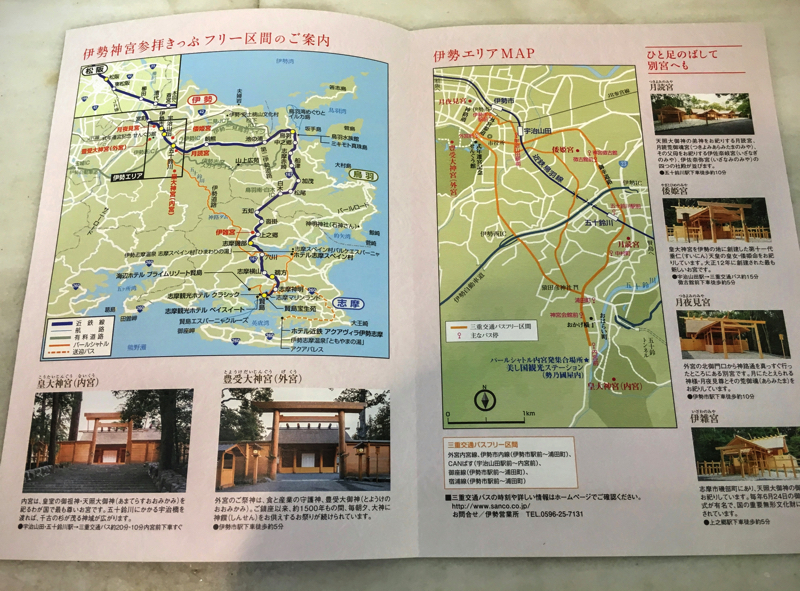 Ise City Station where the Ise Jingu Shrine is locatedToba AquariumIt is a valuable ticket to demonstrate the power in Ise Shima sightseeing to Toba Station where there is, and Kashikojima Station where Ise Shima Summit is held. (The Ise-Shima Summit will be held from 5 / 21 to 5 / 28 on both sides of the island)
Usually, from Kintetsu Nagoya to Ise Station with Ise Jingu, with special express rates including round trip 5,540, using Mie Kotsu from Outer Palace to Inner Palace by regular traffic, it will take the original at this point if you visit Ise Shrine at this time . In addition, as it is a round trip 430 yen with express fares from Kintetsu Nagoya to Kashikojima, it can be understood that it is an extremely discounted ticket.
From Outer Palace to Uchinomiya by bus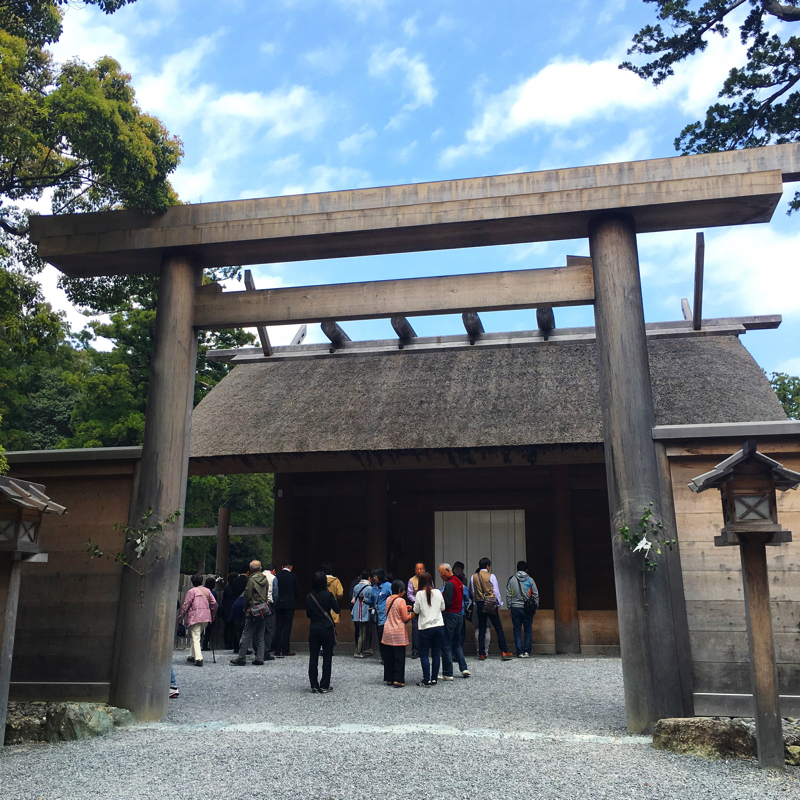 Ise Jingu Shrine, which was relegated to a new shrine in 2013, is the summarizing of shrines all over Japan surrounded by forests. There was a mysterious attraction. As the location is far from the outer shrine, let's move using the free pass of Mie Kotsu's route bus (including 'CAN bus' and 'Sangu bus' sections) of 'Ise-Shima Shingu Shrine Visit' .
SPONSORED LINK

Nippon car rental special discount of about 30%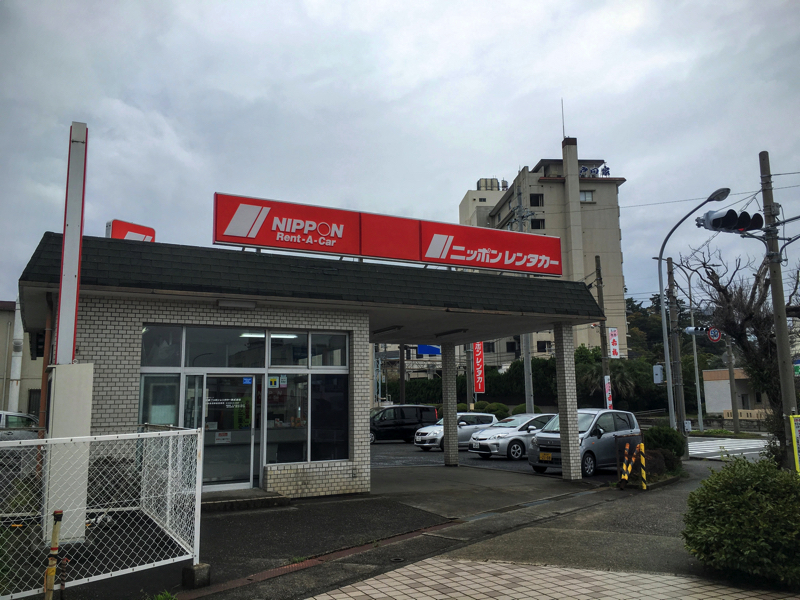 If you have the Ise-Shima Shrine Visit Ticket, you can rent a car at a price of about 30% off the regular rate at each of the Matsusaka, Uji Yamada, Toba, and Hakata sales offices of Nippon Rent-A-Car. You need to make a reservation in advance by phone at each sales office. We used to rent a car as we went to Shima City. It's very convenient to go back to another sales office.
Pearl shuttle 1 available between Uchinomiya and Ise Shima hotels (requires reservation)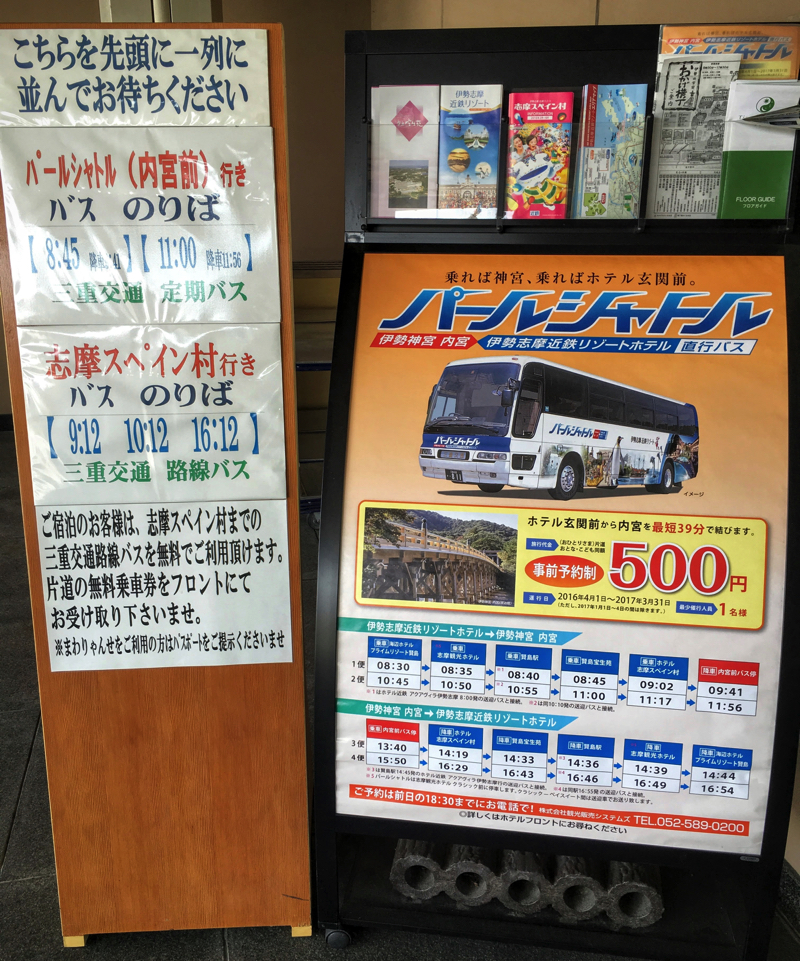 Pearl bus (XNUM X X X X) of shuttle bus (usually XNUM X yen) between Ise Jinnai Uchinomiya-Ise Shima Kintetsu Resort Hotel (Hotel Shima Spain Village, Kashikojima Hoshosu (Kashikojima Station), Shima Kanko Hotel, Seaside Hotel Prime Resort Kashikojima) You can ride only 500 times). However, reservations are required by the day before boarding.
How to obtain "Ise Shrine visit ticket" in Tokyo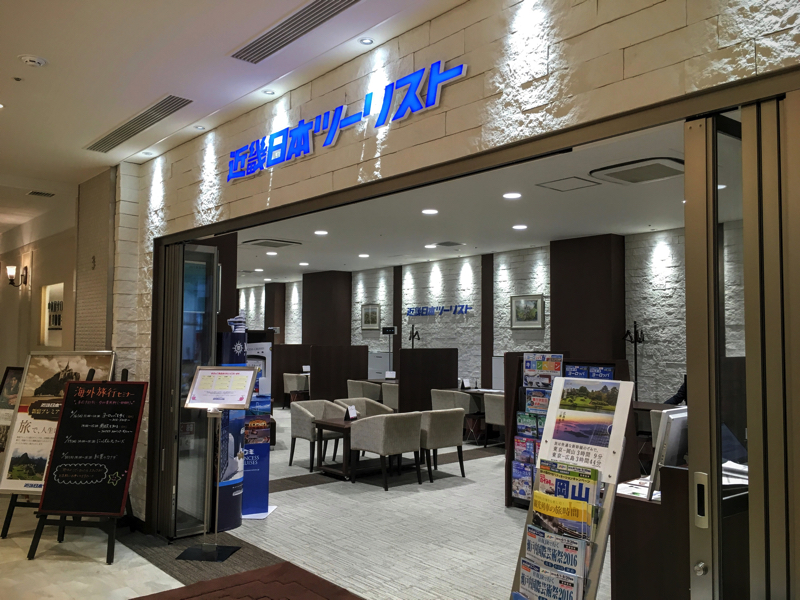 Ise Jingu Shrine farewell ticket is on sale at the window of Kintetsu Electric Railway's Osaka Prefecture, Aichi Prefecture and Nara Line / Kyoto Line / Yoshino Line Shimoichiguchi Station south of Limited Express Ticket Release Station etc. However, other prefectures such as Tokyo have Kinki It can be purchased free of charge if purchased at each sales office of Japan Tourist. In central Tokyo, you can purchase at sales offices such as Yurakucho, Shibuya and Ikebukuro. We purchased at Shinjuku Premium Travel Salon.
Summary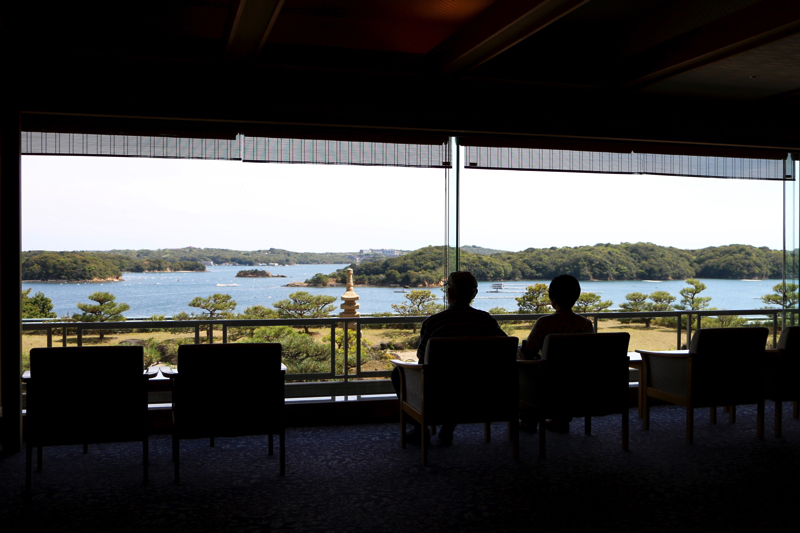 The Ise Shrine tour ticket is a ticket that you can visit the Ise Shrine and the Ise Shima area for a great deal of value. As the expiration date is 3 days, please go to the Ise Shima area on your 3 itinerary!
→ Find Ise Jingu tour at Kinki Japan Tourist

Adult trip premium Ise · Shima Toba '19-' 20 years
TAC Publishing Department
972 yen
(10 / 06 00: as of 05)
Release date: 2018 / 08 / 04
We publish information of Amazon
Ise Shima's Journey XNUM X
SPONSORED LINK



SPONSORED LINK